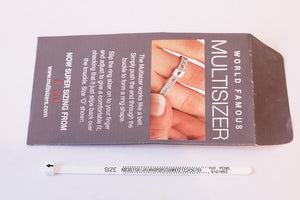 Not sure of your ring size?
This UK Ring Sizer works like a belt. Simply push the end through the buckle to form a ring shape.
Slip the ring sizer on to your finger and adjust to give a comfortable fit, checking that it still slips over the knuckle.
50p of every order placed is donated to The Woodland Trust, to help protect our woodlands, trees, and wildlife.
Orders are dispatched on Mondays and Thursdays.