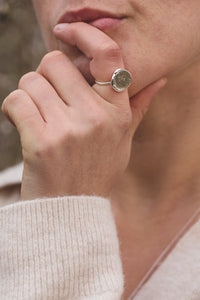 A very playful piece to make, this ring was formed by melting down waste silver in to a liquid before pressing with a hammer.
I love the unpredictability of this, and that you can still see the process within it.
This ring is a size N.
If you need help working out your ring size, I offer a free PDF Printable Ring Sizer when you join my mailing list. Click to join.
Born as a way of encouraging freedom and spontaneity within my practice, F L O W is an evolving series of truly unique jewellery.
Being able to work in such a playful way is something that has always been important to me, and I am so excited to have encapsulated this through silver.
Each piece from this collection is made by melting down recycled and waste silver to create new designs with their own individual flow and character.
Each with their own story, each one of a kind.
Made using 100% Recycled Sterling Silver.